Boalsburg Village has kept its atmosphere of small-town intimacy and historic character for almost 200 years.
Visitors to the Boalsburg Diamond come to visit the shops and restaurants and to soak up that small-town feeling. People who live here and own businesses strive to maintain the town's unique personality.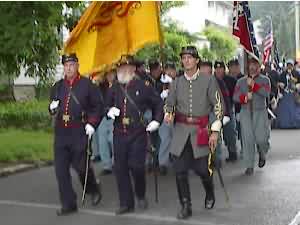 Driving into Boalsburg is literally stepping back in time, to the days in which most Americans lived in small villages and towns. Here you walk to the post office to pick up your mail, walk to the cafe for a bite of lunch, go ice skating in the nearby park, sit on the front porch and snooze.
Each year Boalsburg puts on a traditional Memorial Day celebration complete with a parade, a community walk to the cemetery, speeches, arts and crafts sale, military reenactments and much more. The three day week-end attracts nearly 25,000 visitors.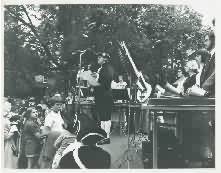 Boalsburg Plans Annual Memorial Day Celebration
May 29, 2006 (Boalsburg, PA) - In a quiet Boalsburg cemetery in 1864, Emma Hunter, Sophie Keller and Elizabeth Myers gave birth to what would later become an American tradition – honoring our fallen soldiers. Out of that quiet moment was born Memorial Day, a holiday when we remember those who sacrificed their lives for our freedoms.

In 2006, the village of Boalsburg will celebrate its place in history as the birthplace of Memorial Day with a daylong festival, culminating in a 6:00 PM ceremony of rememberance in the same cemetary Emma Hunter, Sophie Keller and Elizabeth Myers visited in 1864. The local Girl Scout Troop 1184 will decorate fallen soldiers graves for the 142nd time.

Throughout the day, nearly 20,000 residents will have a chance to spend a day in town, tempting their taste buds with local foods and shopping for wares from artisans across the Northeast. Three museums in Boalsburg- the Boalsburg Heritage Museum, the Boal Mansion and the Pennsylvania Military Museum- will have family oriented activities throughout the day, including an encampment by Civil War re-enactors.

The day kicks off with a Fun Run at Blue Spring Park at 8:30 AM. The festival runs from 9:00 AM to 5:00 PM and features local musicians, a traditional Maypole dance and local artisans. The 6:00 PM service caps the day with a community address by Earl Kessler. Mr. Kessler is a World War II veteran and former prisoner-of-war who has devoted his life to serving his community.

Historic Boalsburg welcomes group tours to the village shops and museums. To arrange a day tour for your organization contact the Centre County Visitors Bureau at 800-358-5466 .
---
Visiting Boalsburg and Harris Township
---
The Harris Township Lions Club